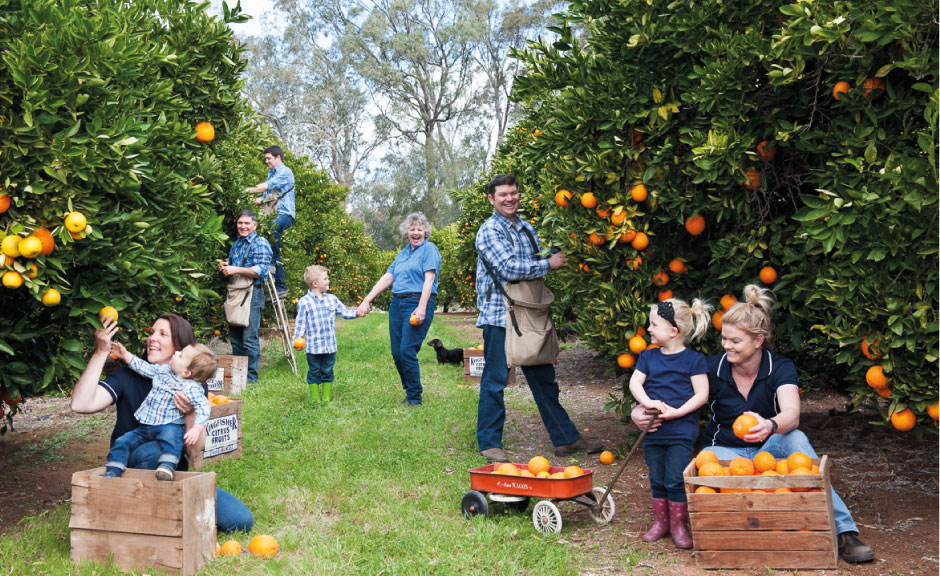 ABOUT OUR FAMILY
Family is the heart and soul of Kingfisher Citrus…
Brothers Angus and Alexander Fisher, first established the farm back in 1938 and it is the children, grandchildren and great grandchildren of Alexander, who continue to live and work the farm today.
Lex and Glenda, together with their sons, Ronan and Lynton and their wives, Mel and Aimee have embraced the opportunity to sell direct through farmers' markets across Victoria and amidst the chaos and increasing workload, the Fisher family continues to flourish and so too does the workforce!
Not all too long ago, however, the family were suffering through a decade long drought and collapse in the Aussie export dollar. At crisis point a semi-trailer load of beautiful fruit amounted to no more than a pitiful $500, and unable to cover picking costs it was cheaper to leave the fruit on the trees to rot! Faced with the harsh reality of an uncertain future, it was this defining moment that Kingfisher Citrus turned to farmers' markets.
Nine years have passed since that first Collingwood Children's Farm Farmers' Market and with perseverance, determination and a damn lot of hard work, each of the three families now attend different markets every weekend.
Committed and optimistic, Kingfisher Citrus have a new vision that will nurture the farm securely into the future and provide for their families and loyal customers too. So keep an eye out here, and share in the journey…But just like in farming, 'keep your dusty hat on', because a great eating orange takes more than a season to grow.
The Fisher family